Inloggen
Als u een account bij ons heeft, meld u dan aan.
Dont have an account? Registreren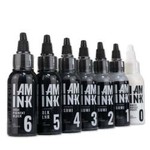 I AM INK
THE FIRST GENERATION
With the FIRST GENERATION, the I AM INK® presents a bridge between the incompatible. A color that combines the application requirements of artists with the highest pigment and raw material quality.
The FIRST GENERATION is dedicated to the contrasts black and white, without which many things would not be possible in the world of tattooing. The choice of pigment gives the FIRST GENERATION a black that is almost completely light-absorbent and thus leaves a deep black color impression - without being contaminated with carcinogenic substances such as PAHs or AA's. And a white, which reaches such a high optical density through the crystal structure that it almost matches the ideal white - without accepting excessive contamination by heavy metals.
The advanced formulation already enables us to comply not only with the current ResAP2008_1 but also with the planned, very strict ECHA regulation.
A black - darker than the deepest abysses. A white - brighter than the most brilliant light.
THE SECOND GENERATION
The SECOND GENERATION of I AM INK® presents the revolutionary Silverwash series based on the FIRST GENERATION Sumis.
The Silverwash series satisfies the needs of all artists with high demands in pigment quality and practical expertise, giving you endless new possibilities of effects and color depth.
The SECOND GENERATION focuses on a series of machine-mixed black-sumi / white mixtures, which are very easy to process and deliver optimal results. URBAN BLACK 7, the allrounder-black which was developed together with well-known tattoo artists from the field of lettering, is perfect for lines as well as shading.
Thanks to the choice of pigments, the SECOND GENERATION also supplies inks that are produced without carcinogenic substances such as PAHs or AAs. The highly developed formulation already makes it possible to comply with not only the current ResAP2008_1 but also the planned, very strict ECHA regulation.